« ここんとこ近況 | メイン | ネタとしての「大企業に向いているかもしれない人」 »
2008年06月05日
トンボの羽化@六本木
 今朝のこと。
 東京ミッドタウン脇にある檜町公園を散歩していると、池のほとりの石の上でトンボがヤゴから羽化しているところを偶然に発見。
 N905iで撮影。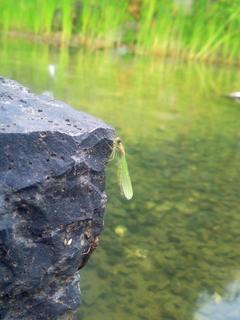 下の方に見えるのはヤゴの抜け殻。思わず家に持って帰ってきてしまった。(使い道ないのですぐ捨てたけど)
 しかし羽化したては羽が緑色なのね。
 師匠の明石散人さんが言うところの「「幽玄・侘び・寂び」のまさに「幽玄」である。
 10分ほどして戻ってくると尻尾がぐんと伸びており、羽の色も幾分灰色がかって見えてきた。
 本当に儚い。
 そういえば先月明石さんから電話が入り「たまには遊びに来てよ」と言われていたのにすっかりご無沙汰なのだ。桃でも持っていきますか。

 帰り際、こんな虫もみかけたのでパシャリ。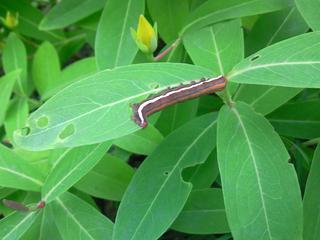 参考Link:
神主さんのひとりごと: 「幽玄」・「侘び」・「寂び」
 http://hinokuma.blog.ocn.ne.jp/weblog/2005/07/post_240e.html
投稿者 KQZ : 2008年06月05日 23:21 | [EDIT]
トラックバック
このエントリーのトラックバックURL:
http://www.authenticbar.com/kqz/days/admin/mt-tb.cgi/1695
コメント
As on the lookout for quite some time for locating a useful articles or blog posts on the subject of this distinctive situation . Researching in Google I finally discovered this weblog post. Studying this So i am happy to say that I've received a fantastic impression I came across whatever I wanted. I most certainly will make sure you remember this blog and look constantly.
投稿者 Hallie Aupperle : 2011年05月20日 16:21
It's exhausting to search out educated people on this subject, but you sound like you know what you're talking about! Thanks
投稿者 Kareem Carmickle : 2011年05月23日 01:17
Thanks very much for this great submit;that is the type of thing that retains me going through these day. I've been trying round for this web site after being referred to them from a buddy and was happy when I found it after trying to find some time. Being a avid blogger, I'm joyful to see others taking initivative and contributing to the community. Just wished to remark to show my appreciation in your article as it's very appleaing, and lots of writers do not get authorization they deserve. I'm positive I'll drop by once more and can suggest to my friends.
投稿者 Florene Calamity : 2011年06月29日 22:53
Spot on with this write-up, I genuinely think this web-site wants much much more consideration. I'll in all probability be once again to read a lot more, thanks for that info.
投稿者 Preston Barrows : 2011年07月26日 08:04